Features in detail
Smart, safe, comfortable - that's 4bowl.
Increasing Bookings
Let your customers book fast and easily via their smartphones or desktop-computers. 4bowl automatically sends booking confirmations via mail and SMS. The system does it all in real-time. Handwritten schedules and Excel charts are part of the past.
Try it now!
A quick overview
New bookings, customer's requests and changes are highlighted. Navigate easily through the functions. 4bowl has a self-explaining handling. Every employee gets an own access to 4bowl. Decide who is allowed to see, book and change any entry or setting in your system.
Taking pressure off your staff
Dealing with your customers' needs will be easy and fast. If one of your customers wants to book by telephone, it means only a couple of clicks to your staff. Overbooking is technically prevented. If you have to leave the counter quickly, 4bowl locks the system automatically. This supports your staff to focus on every customer request completely and individually!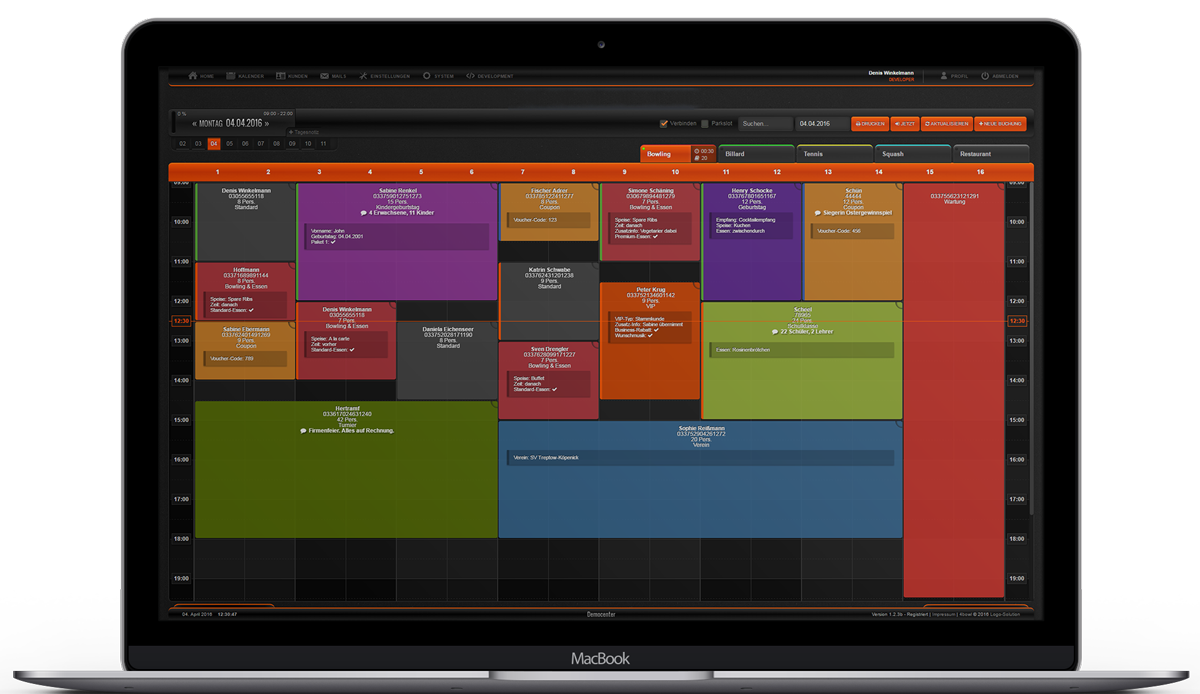 Understand your center's capacity
Retrace every decision and each step made in your bowling center. Keep track on each customer booking, evaluate the information given by each entry and check which request has been already answered. Be able to react quickly towards a rush of customers.
Wherever, whenever
Work in 4bowl wherever you want. No matter if you are at your office or on the road. 4bowl is with you all the time – online. Plan your events and offers independently from time and place.
IT-experts on your side
Log in to 4bowl via your internet-browser and start working. An installation is not required. 4bowl works with minimal system resources. Maintenance is served by our technical support at our expense.
Boundless flexibility
If your center has more than just one workstation, all your employees will still be able to work in 4bowl simultaneously. All bookings, changes and reactions are visible to all your system's users in real-time.
Choose your language
Your employees are free to choose their account's proper language. 4bowl currently offers English, French and German. If you need an additional language, do not hesitate to contact us.
We transfer your data safely
Our team transfers your existing data with accuracy and safety from your present system to 4bowl.